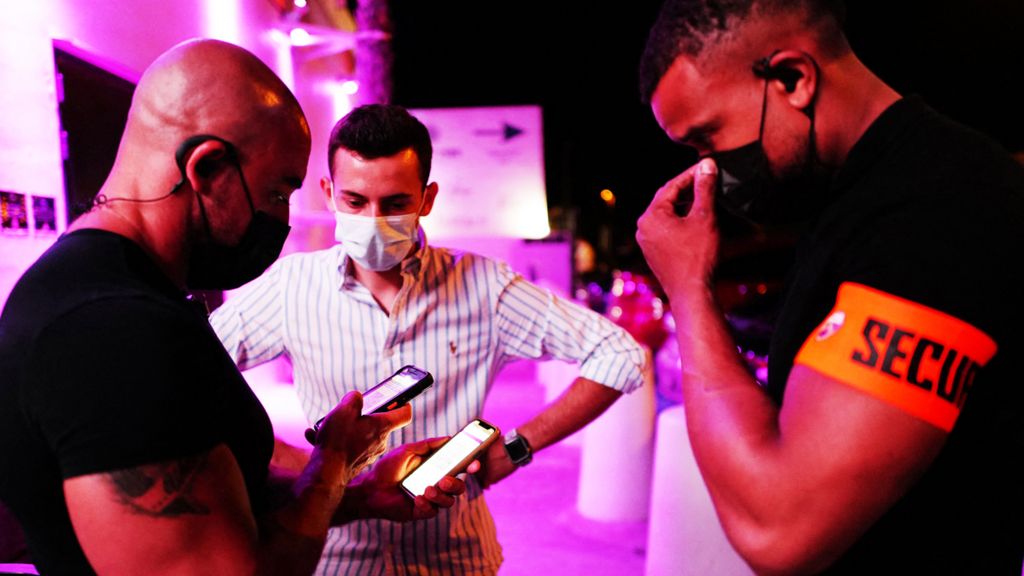 Only fully vaccinated people will be allowed into nightclubs, major sporting events and many concerts and festivals in Scotland.
In England, similar rules are expected to come into force.
What do we know about how the schemes will work?
Scotland
The Scottish government says this will allow large events to go ahead as safely as possible.
Where will I need Covid passport?
The new rules mean people over the age of 18 will need to show they are fully vaccinated before they are allowed entry to:
Nightclubs and comparable venues
Adult entertainment venues
Unseated indoor live events for more than 500 people
Unseated outdoor live events for more than 4,000 people
Any event for more than 10,000 people
Who will be exempt?
Under-18s (likely to be reduced to under-16s once all 16- to 18-year-olds have had the opportunity to be vaccinated)
Participants in vaccine trials
People unable to be vaccinated for medical reasons
Those working or performing at venues (as they will be working under employers' health and safety guidance)
How will it work?
A QR code verifier app (called the NHS Scotland Covid Check) will be made available to venues from 13 September, enabling staff to check customers' QR codes.
From 30 September, customers should be able to download an NHS Scotland Covid Status App which will show their vaccination QR codes. From that date, the current downloadable PDF function via the NHS inform website will be switched off.
It's planned that anyone unable or unwilling to use the app can request a "secure un-editable paper record of vaccination", with enhanced security features such as thermodynamic ink to prevent forgery.
What counts as a nightclub?
Nightclubs were not previously defined in Scotland's Covid regulations, and the government concedes there is now a need to define them and comparable venues.
Potentially, a 200-capacity nightclub could ask for vaccine passports – while a pub next door, with a larger capacity and music playing into the early hours, won't have to.
Officials say they are working with stakeholders to finalise a definition that will ensure the intended public health benefit, but not result in "market distortion or displacement".
What if I've been jabbed in England, Wales or Northern Ireland?
As things stand under the new scheme, people who have been fully vaccinated outside Scotland won't qualify for entry to nightclubs or other venues.
The Scottish Government says it is working with England, Wales and Northern Ireland to work out a solution to this problem – as well as considering how it will work for visitors from abroad.
Why can't I show a negative test result instead?
Unlike England, Scotland's passport scheme will not initially allow a negative test result as an alternative to evidence of vaccination.
The Scottish government says this will be kept under review, but it doesn't want to undermine one of the scheme's aims – to increase vaccine uptake – or put extra pressure on testing laboratories.
England
The British Beer and Pub Association says it doesn't expect pubs to be required to check customers' Covid status.
How it will work?
People can prove their Covid status via the NHS Covid pass which shows if they are fully vaccinated. The pass will also show if you have had a recent negative Covid test.
The changes are likely to affect:
crowded indoor spaces such as nightclubs and music venues
large outdoor events such as festivals
some very large business and spectator sport events
The government says it will provide more details soon.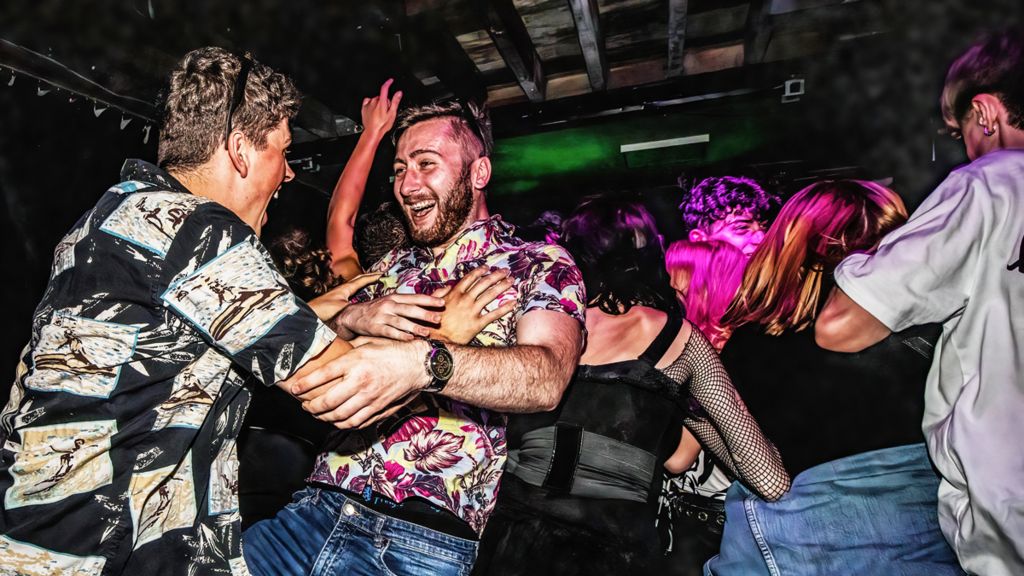 Wales and Northern Ireland
Wales and Northern Ireland have not yet proposed Covid passport rules for venues and events.
How do I prove I've been vaccinated?
England:
As long as you are registered with a GP, you can get proof of your Covid-19 status via the NHS App (not the NHS Covid-19 app which alerts you if you've been close to someone with the virus).
The app generates the NHS Covid Pass shows your Covid vaccination details or test results.
People aged 18 and over can get an NHS Covid Pass to use in the UK if:
It's been two weeks since your second vaccination (or single Jansen dose)
You've had a negative PCR or lateral flow test result in the past 48 hours, and reported it on the NHS website (this pass lasts for 48 hours after the result)
You've had a positive PCR test result in the past six months, and finished self-isolating (this pass lasts for 180 days)
People aged 16 and over can get an NHS Covid Pass for foreign travel if:
You've had two vaccine doses (or one Jansen jab)
You've had a positive PCR test result in the past six months, and finished self-isolating (this pass lasts for 180 days)
If you don't have a GP, or a mobile device, you can access the pass via the NHS website or by calling 119 to request a letter. The letter only shows your vaccination status (not test results) and has no expiry date.
Wales:
Call 0300 303 5667 for a paper copy at least five days after your final dose.
Scotland:
Anyone 16 and over can go online and download a PDF version of their vaccination status showing a unique QR code. By the end of September, the NHS Scotland Covid Status App should be available.
What about foreign travel?
Proof of vaccination status is also required by some other countries for entry. Several European destinations now accept the NHS pass. Check your destination's entry rules and keep checking until you travel.